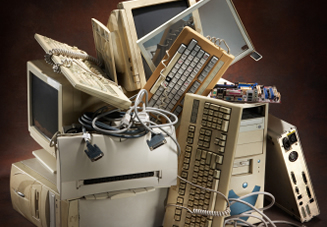 Equipment Disposal and Recycling
Is a technology junkyard growing in your company?
We all know that for home users it is discouraged to set your old PC out by the curb on trash day for the trash man to pick up, but did you know that it is illegal for businesses to do the same?
Bring your old electronic equipment to VCT for proper disposal. We "take title" to your equipment. That is: your equipment becomes our equipment and it's no longer your responsibility.
Hard drives are sanitized or destroyed.
Asset tags are removed that may identify the original equipment's owner.
Worthless computer equipment is disposed of in accordance with all Federal and State environmental laws.
Items that we recycle
Phone Systems
Phones
PC
Monitors
Ethernet Switches
Routers
Cell Phones
Printers
Copiers
And more…
Please contact us at 740.965.8521 to schedule a time to drop off any equipment.
Why recycle your old equipment?
You Can Go To Jail For Improper PC Disposal
InformationWeek
September 22, 2005
Discarded Hard Drives Still Contain Data
CIO Today
June 1, 2005