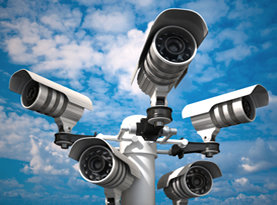 By definition, video surveillance is the use of an appliance that allows video images or extracted information to be compressed, stored or transmitted over communication networks or digital data link. Digital video surveillance systems are used for many types of monitoring.

Video surveillance means much more than that to Vision Concept Technology. Our primary definition revolves around the "peace of mind" that results from the implementation of an efficient and effective video surveillance system.

Choosing the right video surveillance system will allow you to rest easy when you're not available to keep watch over those things most important to you. Our systems are fully-integrated within your technology model to provide you with high-end monitoring capabilities, providing the utmost in security.

Together with a Vision Concept Technology installed network, your video surveillance system is seamlessly in place to maintain a watchful eye while you maintain your business.

Give us a call today to discuss how we can help you protect your business.