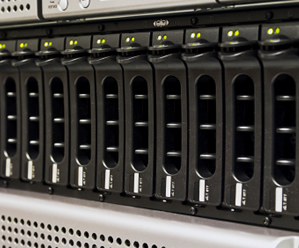 Secure, Enterprise-Class Business Continuity without the Enterprise Class Price
What It Does & How It Works…
With its fast virtualization capabilities, our NAS device can be configured to function as a replacement server if needed. This unique device also can replace management intensive, error-prone tape backups while providing much more…starting with peace of mind.
Protect Valuable Informational Assets & Keep Downtime To A Minimum
Our NAS device is a comprehensive Backup and Disaster Recovery solution (BDR) for Windows 2000 and Windows 2003 servers. This reasonably priced, all-encompassing solution for small-to-midsize businesses provides:
Very frequent backups (as frequent as every 15 minutes) with an onsite NAS Device
Optional off-site data storage at highly rated data centers
The ability to restore downed servers in less than 30 minutes!
Advanced restoration options (file- and folder-levels) with Exchange message and mailbox recovery
Bare-metal restorations to dissimilar hardware
Low cost
NAS vs. Tape
Though tape backup is common, it's far from being an ideal BDR solution. Analysts have said that over half of tape backups fail, so chances are that if you need to restore from tape, you'll be out of luck. But assuming all goes well with tape backup, how does it compare with the NAS appliance?